The UAE-Oman rail network is expected to bring a new era of connectivity and economic growth for Oman and help the GCC region to become a global logistics centre.
The sultanate has highlighted plans to further collaborate with its GCC neighbours as it pursues long-held ambitions to serve as a bridge between East and West.
"Oman's location in the Arabian Peninsula, plus its access to deep-sea ports overseeing the Indian Ocean outside of the choke point of Hormuz Strait, offers an almost perfect stop between the West and the East," said Mahmood Al Wahaibi, managing partner at Oman Think Urban and infrastructure lead at the Oman National Spatial Strategy project.
Work on the first phase of the network is expected to start after a $3 billion agreement was signed by the Oman-Etihad Rail Company and Mubadala last month.
Last year, Etihad Rail entered into a partnership with Oman Rail to establish the Oman-Etihad Rail Company and construct a 303km rail route between Sohar and Abu Dhabi.
In 2014, the sultanate laid out its strategy for 2040, which envisions the sector creating about 300,000 jobs as Oman becomes a logistics centre.
Sohar to become a more accessible tourist destination
Trains will link Sohar and Abu Dhabi in an hour and 40 minutes while the journey from Sohar to Al Ain will take 47 minutes.
"The railway network will provide us with an alternate mode of transport, besides air and road travel," said Sultan Al Balushi, a resident of Sohar.
"It will benefit people in both the UAE and Oman who are looking for a faster mode of transport at a more affordable price.
"I drive two or three times a month to the UAE for shopping and tourism, so once this rail is functional, I can also consider travelling by train."
Sohar has long been an attraction for many GCC residents and Omani residents drawn to its lush vegetation and mountains.
Sohar Fort and Sultan Qaboos Mosque are among the many tourist spots in or around the city.
Aftab Patel, chief executive of Al Omaniya Financial Services and a long-term resident of the sultanate, said the tourism sector would benefit from the rail project due to the "novelty value in train travel".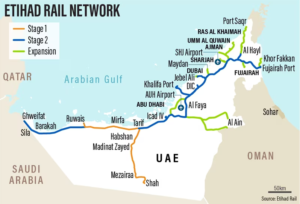 "Once Oman's capital is connected with the network, it has the potential to increase tourism rapidly and benefit tourists in both countries," he said.
Oman Rail told The National that the network would help to "shape a bright future for transport in Oman and the GCC".
"The network is designed to effect deep social changes by seamlessly connecting urban centres with economic and industrial zones, creating jobs, developing the national human capital, stimulating regional tourism and kicking off a new age of innovation," the rail operator said.
Lowering costs and improving connectivity
The rail network, when complete, will link Oman's GCC neighbours to all ports in the sultanate.
Mr Al Wahaibi said a recent agreement linking Sohar port to the UAE offered both nations a chance to collaborate on the import and export of goods, including crude, while circumventing the Strait of Hormuz.
"This development may result in significant reductions in time and costs associated with these activities," he said.
Ship owners whose vessels dock at Sohar port each week can save up to $10 million and 104 days annually by opting to transport their goods further inland by rail, said a Mercator report commissioned for Oman's logistics strategy for 2040.
For ship owners offering many services, this could equate to savings in the range of $50 million to $100 million a year.
Adham Al Said, co-founder of The Firm for Business and Consulting, and assistant professor of economics at Sultan Qaboos University, said the economic activity in the sultanate's transport sector contributed about 5 per cent to gross domestic product in real terms over the past decade.
"With new modes of transportation providing options for more commerce, linking existing industrial logistical hubs will be crucial to enhancing the value-added outcomes," he said.
Using the rail network can help industries in Oman to lower the cost of raw materials and finished goods.
Ayad Al Balushi, chairman of Sohar Aluminium, said transport was material to the cost of the company's products, especially the final price paid by the customer.
"At Sohar Aluminium, with exports being a large part of our business, reducing transport costs is of paramount importance. It will provide us with a competitive edge over other market players worldwide," Mr Al Balushi said.
GCC as a logistics centre
Sohar is home to several export-based companies.
With a well-connected logistics sector, the industries in Sohar can reach their customers faster and for less, making them more competitive, said Mr Al Balushi.
"The more connected we are, the better we can position ourselves as a region," he said.